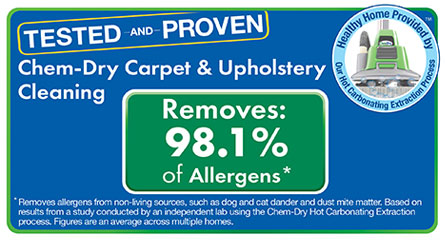 Carpet Cleaning Services in Massillon, OH
When you're looking for carpet cleaning in your area, you can count on AA-1 Chem-Dry in Massillon, OH. We're a professional carpet cleaning service that provides a deeper, longer lasting clean and a healthier home. Our customers in the communities that we serve have become long-time, satisfied clients. You can trust our professionally-trained, hard-working and friendly technicians to understand your specific needs and provide a cleaner, healthier home for you and your family.
The Process
Chem-Dry provides a deeper, longer-lasting, healthier carpet cleaning experience. Typical steam cleaning services use an excessive amount of water, which results in a much longer dry time and can lead to mold and mildew growth at the base of your carpets. Our proprietary Hot Carbonating Extraction cleaning process uses about 80% less water than steam cleaners and gets better results. Using a Chem-Dry Green Certified carbonated cleaning solution that's heated to over 200 degrees, millions of tiny bubbles penetrate to the base of your carpets to lift dirt, grime, dust and other allergens to the surface. Then our powerful extraction equipment removes these unhealthy elements along with the most of the water. So your carpets are dry in 1-2 hours with Chem-Dry, compared to 1-2 days with most steam cleaners!
Your Home
We know you have a choice when it comes to carpet cleaners near your home. We promise to treat your home, your family and your pets with the courtesy and care you deserve. Our friendly, professionally-trained technicians understand that getting ready to have your carpets cleaned is a big deal, and they take pride in delivering superior, healthier results for your family and your home.
Tested and Proven Superior Results
Our Hot Carbonating Extraction (HCE) process was tested by a leading independent air quality laboratory in multiple homes. The lab found that Chem-Dry removes an average of 98.1% of common household allergens from carpets and upholstery. The common allergens tested were dog and cat dander and dust mite matter.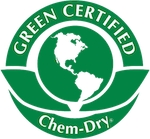 Chem-Dry's signature cleaning solution, The Natural®, is a cleaning mixture that, through the power of carbonation, lifts dirt and grime to the surface where it is whisked away. The Natural is Chem-Dry green-certified, safe and non-toxic so it's ideal for homes with kids and pets.
You can trust our deeper-cleaning, healthier carpet cleaning service to meet your needs and exceed your expectations. Chem-Dry is preferred by customers and professionals alike. The Carpet and Rug Institute (CRI) designated Chem-Dry as a company deserving of the CRI Seal of Approval for our innovative and unique hot carbonating system. This program identifies effective carpet cleaning solutions and equipment that clean carpet right the first time and protect a home or commercial facility's carpet investment. The blue and green CRI Seal of Approval is proof that you are investing in a proven, high quality service.
Don't forget, when it comes to the best carpet cleaning in your area, AA-1 Chem-Dry in Massillon, OH is your best choice. Our goal is to provide you with a clean and healthy home. Our hope is that you become a long-time client for years to come. We are proud to serve this community with industry-leading services! Call us today at (330) 833-3232!
Carpet Cleaning
Rated
4.8
/5 based on
12
customer reviews
Product description:
Our carpet cleaning method uses a process called Hot Carbonated Extraction which uses carbonation to loosen and extract ground-in dirt from your carpet.
Check Out Our Reviews
My Carpets Look Great!
- by
Teresa P.
,
&nbsp August 3, 2018
5
/
5
stars
★★★★★
"I can't believe how great the carpets look! I have them cleaned every summer and have never been very pleased with the results. I called AA1-ChemDry and they were at my house in 2 days. The price was great for the whole house. They were very professional and quick. Stains that have been set in and other companies couldn't remove are now gone."
Amazing!
- by
Ashley G.
,
&nbsp February 16, 2018
5
/
5
stars
★★★★★
"Amazing! My carpets looked brand new, very affordable and will use them again. I had them do two houses with the same week and the service and quality was the same....Very professional, quick and did a phenomenal job. if I knew what they provided I would've had this done along time ago this was a last resort before replacing carpet."